On May 19, 2020, we competed for $250,000 from Chloe Capital and ECMC.  Our local Niwot paper, Left Hand Valley Courier, was kind enough to put the write-up on the front page!  Check it out below, along with the video we included for our pitch.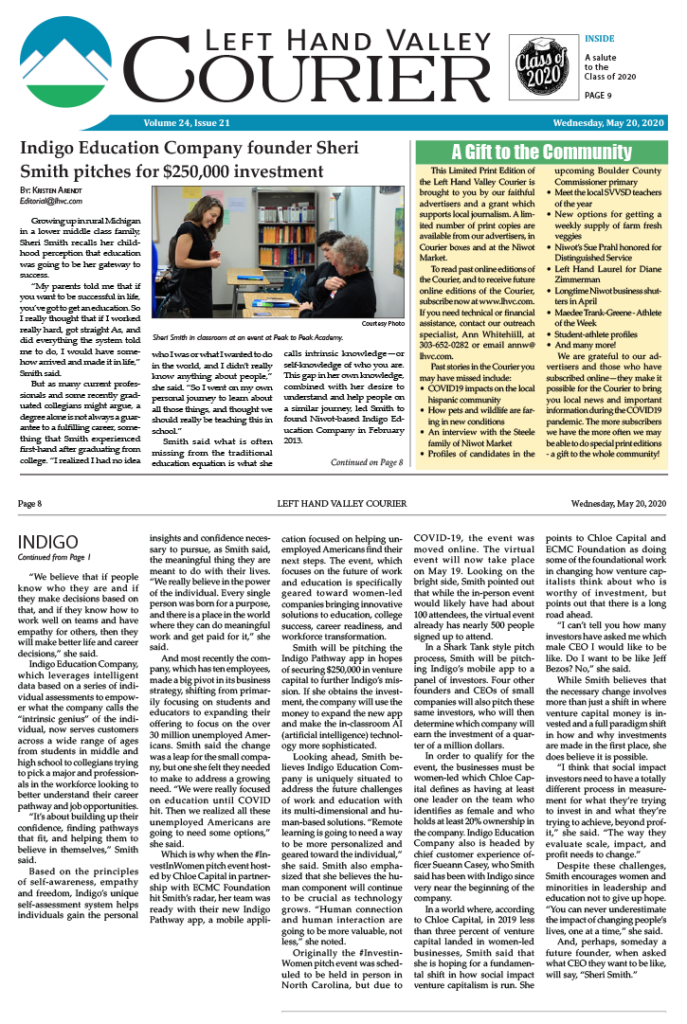 Indigo Education Company founder Sheri Smith pitches for $250,000 investment.

By Kristen Arendt
Growing up in rural Michigan in a lower middle class family, Sheri Smith recalls her childhood perception that education was going to be her gateway to success.
"My parents told me that if you want to be successful in life, you've got to get an education. So I really thought that if I worked really hard, got straight As, and did everything the system told me to do, I would have somehow arrived and made it in life," Smith said.
But as many current professionals and some recently graduated collegians might argue, a degree alone is not always a guarantee to a fulfilling career, something that Smith experienced first-hand after graduating from college. "I realized I had no idea who I was or what I wanted to do in the world, and I didn't really know anything about people," she said. "So I went on my own personal journey to learn about all those things, and thought we should really be teaching this in school."
Smith said what is often missing from the traditional education equation is what she calls intrinsic knowledge-or self-knowledge of who you are. This gap in her own knowledge, combined with her desire to understand and help people on a similar journey, led Smith to found Niwot-based Indigo Education Company in February 2013.
"We believe that if people know who they are and if they make decisions based on that, and if they know how to work well on teams and have empathy for others, then they will make better life and career decisions," she said.
Indigo Education Company, which leverages intelligent data based on a series of individual assessments to empower what the company calls the "intrinsic genius" of the individual, now serves customers across a wide range of ages from students in middle and high school to collegians trying to pick a major and professionals in the workforce looking to better understand their career pathway and job opportunities.
"It's about building up their confidence, finding pathways that fit, and helping them to believe in themselves," Smith said.
Based on the principles of self-awareness, empathy and freedom, Indigo's unique self-assessment system helps individuals gain the personal insights and confidence necessary to pursue, as Smith said, the meaningful thing they are meant to do with their lives. "We really believe in the power of the individual. Every single person was born for a purpose, and there is a place in the world where they can do meaningful work and get paid for it," she said.
And most recently the company, which has ten employees, made a big pivot in its business strategy, shifting from primarily focusing on students and educators to expanding their offering to focus on the over 30 million unemployed Americans. Smith said the change was a leap for the small company, but one she felt they needed to make to address a growing need. "We were really focused on education until COVID hit. Then we realized all these unemployed Americans are going to need some options," she said.
Which is why when the #InvestInWomen pitch event hosted by Chloe Capital in partnership with ECMC Foundation hit Smith's radar, her team was ready with their new Indigo Pathway app, a mobile application focused on helping unemployed Americans find their next steps. The event, which focuses on the future of work and education is specifically geared toward women-led companies bringing innovative solutions to education, college success, career readiness, and workforce transformation.
Smith will be pitching the Indigo Pathway app in hopes of securing $250,000 in venture capital to further Indigo's mission. If she obtains the investment, the company will use the money to expand the new app and make the in-classroom AI (artificial intelligence) technology more sophisticated.
Looking ahead, Smith believes Indigo Education Company is uniquely situated to address the future challenges of work and education with its multi-dimensional and human-based solutions. "Remote learning is going to need a way to be more personalized and geared toward the individual," she said. Smith also emphasized that she believes the human component will continue to be crucial as technology grows. "Human connection and human interaction are going to be more valuable, not less," she noted.
Originally the #InvestinWomen pitch event was scheduled to be held in person in North Carolina, but due to COVID-19, the event was moved online. The virtual event will now take place on May 19. Looking on the bright side, Smith pointed out that while the in-person event would likely have had about 100 attendees, the virtual event already has nearly 500 people signed up to attend.
In a Shark Tank style pitch process, Smith will be pitching Indigo's mobile app to a panel of investors. Four other founders and CEOs of small companies will also pitch these same investors, who will then determine which company will earn the investment of a quarter of a million dollars.
In order to qualify for the event, the businesses must be women-led which Chloe Capital defines as having at least one leader on the team who identifies as female and who holds at least 20% ownership in the company. Indigo Education Company also is headed by chief customer experience officer Sueann Casey, who Smith said has been with Indigo since very near the beginning of the company.
In a world where, according to Chloe Capital, in 2019 less than three percent of venture capital landed in women-led businesses, Smith said that she is hoping for a fundamental shift in how social impact venture capitalism is run. She points to Chloe Capital and ECMC Foundation as doing some of the foundational work in changing how venture capitalists think about who is worthy of investment, but points out that there is a long road ahead.
"I can't tell you how many investors have asked me which male CEO I would like to be like. Do I want to be like Jeff Bezos? No," she said.
Courtesy Photo
Sheri Smith in classroom at an event at Peak to Peak Academy.
While Smith believes that the necessary change involves more than just a shift in where venture capital money is invested and a full paradigm shift in how and why investments are made in the first place, she does believe it is possible.
"I think that social impact investors need to have a totally different process in measurement for what they're trying to invest in and what they're trying to achieve, beyond profit," she said. "The way they evaluate scale, impact, and profit needs to change."
Despite these challenges, Smith encourages women and minorities in leadership and education not to give up hope. "You can never underestimate the impact of changing people's lives, one at a time," she said.
And, perhaps, someday a future founder, when asked what CEO they want to be like, will say, "Sheri Smith."